Licensees :
JOHN & CHARLOTTE WRIGHT
*1823 - 1833
ROBERT PLATTEN
age 45 in 1851
& farmer
(died Q4 1857)
*1833 - 1851
STEPHEN WESTNEY
1854 - 1858
ROBERT CHAPMAN
& farmer 74 acres 1861 - age 37
& farmer 100 acres 1871 & 1881
1860 - 1883
GEORGE ROSE PORRETT
& farmer
age 60 in 1891
(died Q1 1899)
1888 - 1893
ALFRED DOUGHTY
21.11.1893 - 1896
JOHN FUTTER HEWITT
21.09.1897
HENRY ADCOCK
& farmer
age 58 in 1901
1900 - 1902
CHARLES DUFFIELD
died Q1 1910
1904 - 1910
Mrs EDITH DUFFIELD
1910 - 1912
FREDERICK WILLIAM HALL
1915 to 1926
JOHN BOND
03.08.1926
ALFRED ERNEST HENRY LEE
18.10.1932
VALENTINE GRAY
05.02.1935
ALBERT E HALL
01.04.1941
THOMAS WILLIAM RITCHIE LAKE
11.04.1950
ARTHUR FISHER BURTON
09.09.1952
FREDERICK RICHARD CANNELL
05.09.1961
RONALD HERBERT ELSDON
17.04.1968 -
01.07.1980
MICHAEL J W DYBALL
(Temporary licence granted 26.06.1980)
07.08.1980
-
TIM & JANE ELWES
by 2012
Map ref : TG1631
On Thursday 9th October 1903, Mr. Henry Adcock was to sell all his Live and Dead Farming Stock since he was giving up farming.
His stock included 3 Cart Horses,
A Red polled Cow,
A Red Shorthorn Bull
and 4 young Sows, in Pig.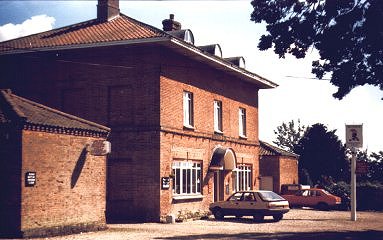 Built 1806 as a coaching inn for visitors to Wolterton Hall.
originally known as the NEW INN.

Appears on Bryant's 1826 map.

Part of the Household Furniture of John Wright was to be Sold by Auction on Friday, 25th October 1833, as a consequence of Mr. Wright having quit the premises.
In Steward & Patteson records as first supplied during the year 1850 to 1851.
The business of Robert Platten, including a 3 coomb brewing plant was offered for sale by auction 3rd October 1851.
~
The Norwich Mercury of 30th June 1860 advised :-
`Mr. Robert Chapman begs to announce to his Friends and Public that the Opening Dinner will take place on Wednesday July the 11th. W.H. Scott in the Chair. Dinner at Half-past Four for Five O'clock. Tickets 10s 6d each, for which an early application is politely requested.

Advertised To let July 1897 - Apply Morgans Brewery Company ltd, norwich.

George Porrett issued an invoice dated January 1889 to a Mr E Sharpin for a mixture of taxes, balanced against goods received.
Payment was due for :
2nd instalment of Poor Rate for July 1888, £1/14/11d.
1st instalment Poor Rate due for 6th November 1888, £1/9/11d.
Highway Rate due £1/9/11.

2nd instalment Poor Rate 15th January 1889, £1/9/11.
Poor Rate instalment for 5th May 1889, £1/5/-d
Highway Rate due £1/19/11.

All LESS :
Wheat received to the value of £2/1/3d
One acre of Swedes to value of £4/-/-

Giving Total due of £3/4/8d


Advertised September 1902 to be Let from Michaelmas next.