Licensees :
-
SAMUEL MORRIS
1794
-
WILLIAM WOODHOUSE
& shopkeeper
age 71 in 1851
(died Saturday 20th August 1859 - age 80)
1836 - 1859
HANNAH WOODHOUSE
widow
age 72 in 1861
1859 - 1865
EDWARD MONEY
& carpenter
age 62 in 1881
(& grocer 1872)
1868 - 1890
EDWARD SNELLING
age 38 in 1891
died 5th October 1934 - age 82
1891 - 1915
EDWARD THAXTON
b. 17.03.1869 - d. 12th July 1940 - age 71
16.10.1915
MABEL LOUISE THAXTON
b. 05.08.1876 d. 22nd October 1970 - age 94
10.08.1940
EDWARD NUNN
12.04.1941
MAURICE THOMAS WILKINS
12.05.1951 - 1962+
-
DOREEN & GEOFF AMIES
1971 - 1973+
-
GREG SHEPHERD
1989
-
In 1803, the White Horse was recorded as 113
¼ miles distant from Whitechapel Church, London.
In 2017 the AA gives the distance as 119.9 miles, but the route through London is somewhat more complicated than it would have been in 1803.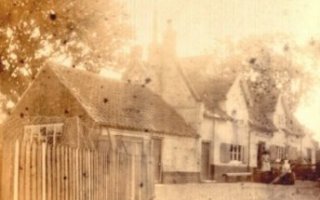 1901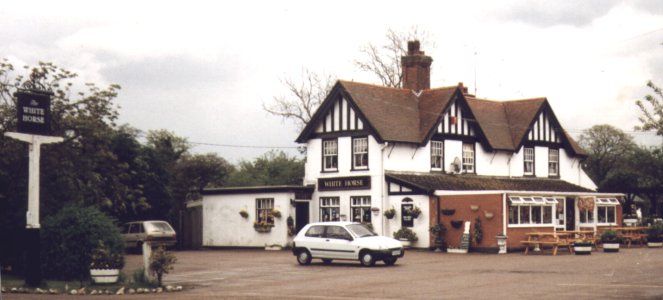 1999

The Benefit Society, run by Mr. Woodhouse, was removed to other premises as reported March 1845. It seems there had been some irregularities........
On 15th March 1845 it was reported that Mr. Woodhouse preferred an information against Mark Ames and William Tills. About 36 labourers and others in the village had formed themselves into a club for the relief of each other during sickness. Each member paid 1s monthly into the sick fund, 2d for the annual feast and 4d was to be paid by each member for the benefit of the publican. Those who did not attend (the feast) still had to pay, but a greater quantity of beer could be consumed by those who did.
Funds for the last feast had been insufficient so the extra expense had been paid from the sick fund.
It was heard that the publican did not treat the club well. He did not allow sufficient firing, only a few stick for fuel and no coal. At the last feast he had charged 5s for cooking and 2s for each dinner served to the labourers.
The defendants admitted taking a money-box containing £13, it being the wishes of 17 out of 22 members, who had attended a meeting the previous Saturday, to remove to a house where they would be better treated.
The magistrates strongly condemned the taking money from the sick fund and the newspaper agreed with the club members that they were correct in removing to a different house.