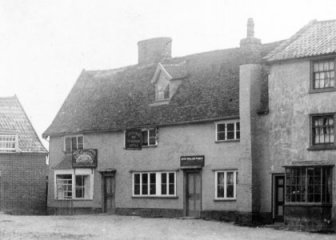 c1905

Offered To Let with immediate possession 17th January 1784.
The SWAN also offered to let in the same advertisement. Both with or without their own small Farms.

For Sale by Auction Thursday 20th April 1797.
Part of an Estate, to be sold in 17 Lots, including the Manor House.


The Debtors and Creditors to the late Mrs. Mary Butter, were to meet at the Queens Head Tuesday 29th September 1818.

Licence not renewed at the East Harling Brewster Sessions held Monday 12th February 1906. Superintendent Lowe said that the house was not needed, in his opinion, since there were 8 public houses, 2 beerhouses and one off-licence serving a population of 1031. The nearest licensed house was 44 yards away and there were 6 fully licensed houses within 138 yards.
Licence referred to Compensation.

The Lynn Advertiser of 22nd February 1907 advertised the sale by auction, 8th March 1907, at the Swan Hotel, of all that valuable Freehold House
....until recently known as the Queens Head.
With 2 living-rooms, bar, tap-room, shop, kitchen and pantry, 5 bed-rooms, 2 attics and box room, large double cellar, newly erected coal-house at rear, 2 large barns in spacious yard, range of stables for 5 horses and cart shed; Also a piece of good Pasture adjoining, the whole abutting on the Market Place north, property of Miss Tillett and Messrs Bullard south, that of Mr E Barrett east, and that of Miss Tillett and - Hammond west. Also all that piece of Arable Land at rear .........The whole containing 4a 3r 25p (more or less), and now in the occupation of Mr J W Paddle.
Licence renewal refused 21st June 1906 and referred to Compensation.
Became a shop - The Market Stores.