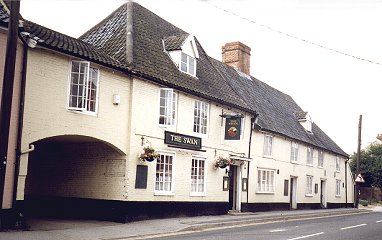 1996
Offered To Let with immediate possession 17th January 1784.
The
QUEENS HEAD
also offered to let in the same advertisement. Both with or without their own small Farms.
Daniel Watson advised 9th September 1797 that the Annual Shew of Lambs would be held here Tuesday 12th September 1797.
Offered to let January 1795, name of occupant not given.
For Sale by Auction Thursday 20th April 1797.
Part of an Estate, to be sold in 17 Lots, including the Manor House.
For sale by auction Wednesday 26th September 1804. Then in occupation of Daniel Watson; comprising a spacious kitchen, 2 large parlours, bar, one cellar, 2 wine vaults, pantry and backhouse, 5 sleeping rooms and large garret, a good barn and stabling for 30 horses, with an open stable and convenient out-buildings and a capital garden, well planted with fruit trees, together with 35A. 14P. of meadow land and 3A. 2R. 20P. of plantation and 60 Acres of arable land, with the tolls of the fairs and markets.
Mr. E. W. Betts informed his Friends and the Public, 10th December 1842 that his Opening Dinner would take place on Thursday 15th December 1842 at Three o'clock. Tickets 8s each.
The Contents of the Inn were offered For Sale by Auction Tuesday 4th April 1871 since Mrs. Sapey was giving up the house.
Items from the Bar, Parlour, Commercial and Market Rooms, Kitchen, Office and Ten Bedrooms were to be sold.
Included were Glass, Earthenware, Plated Goods, Linen and an excellent 82ft Boarded Booth. A Grey Mare, Black Mare, Omnibus, Double Fly, Dog Cart, Luggage Cart, Six Sets of Double Harness,
Mangel Wurtzel
, Potatoes and other Effects were to be included.
Lot No. 26 in the sale of the Diss Lower Brewery Thursday 30th March 1876. Purchased by Youngs, Crawshay & Co.
Offered To Let, August 1879, with occupation from Michaelmas. Including Fairstead Meadow and Accommodation Land.
~