Licensees :
-
Ө
SAMUEL PRATT
1744
JOHN JECKELL
1777 - 1784
JAMES DYBALL
(Died October 1831 - age 86)
1789 - 1804
-
RICHARD WISEMAN
1807
-
THOMAS LUGG
Died 29th November 1820 - age 57
to 11.1820
DEBORAH LUGG
Age 65 in 1841
(Died Q3 1846)
1836 - 1841
EDWARD NORTON
1845 - 1846
HENRY JACOBS
age 54 in 1851
& farming 36 acres
(Died Q4 1869 - age 73)
*1851 - 1858
JEREMIAH COLEMAN
Age 39 in 1871
*1861 - 1879
THOMAS GIBBONS
& farmer
16.03.1880
FARROW JOHN BARNES
(Also as John Barnes in 1890 and John Barnes- Farrow in 1891 - age 25)
04.02.1888
WILLIAM BENNETT
(GEORGE BENNETT according to Kelly's)
02.05.1892
ALFRED MOY
26.08.1895
GEORGE DAGLESS
Age 52 in 1911
12.04.1897
ARTHUR JAMES CHAPMAN
18.10.1935
ARTHUR MALLETT
14.10.1938
PERCY RICHARD JACOBS
25.10.1940
ALBERT JOHN ADAMS
1945
RONALD HERBERT MATTHEWS
(Died May 1985 - age 74)
12.04.1946
A J D CHENEY
05.05.1961
GEORGE ERNEST BARBER
(Died December 1982 - age 67)
17.06.1966
JOHN FRANK NEVE
15.04.1976
JILL & RICHARD HARRIS
26.08.1976
-
-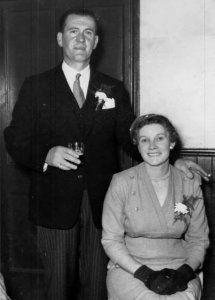 Ronald & Ivy Matthews c1950
Image thanks to Lynn Jackson

THREE PIGS
1789, 1794, 1807 & 1854
PIGGS INN
1826
PIGS
1858
FRERE ARMS
by 1861
BACON ARMS
from 1952
to closure 31.03.1976
The THREE PIGS
Reopened 02.04.1977 as freehouse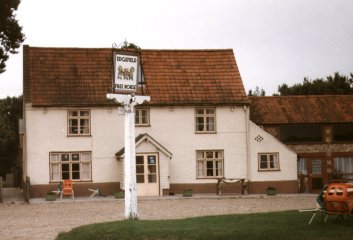 1986
Referenced in 1805 case of smuggling.

Richard Wiseman, of Edgefield Three Pigs was tried at the Old Bailey on Tuesday 8th December 1807 accused of obstructing certain excise-officers in execution of their duty, on the night of 20th October 1806, near Cawston WOODROW. The prisoner provided an alibi and was acquitted by the jury.

As Piggs Inn on Bryant's 1826 map.

It was reported Tuesday 8th November 1831 that James Dyball had died, age 86.
It was related that he had much intercourse with Norfolk smugglers in his early days. At one time he had looked after, for months, eighteen horses for one such character. On one occasion a Magistrate rode up to the house when there were twenty-four carts, laden with contraband spirits, ready to leave from his yard. The Magistrate remonstrated and asked whether he was not afraid of the revenue officers. "Not in the least," said Dyball as he pointed towards his house, " they are all in there, and dead drunk."




Enid Matthews c1954
(daughter of Ronald & Ivy)

Image thanks to Lynn Jackson (daughter of Enid)