Licensees :
-
Mrs CHASTNEY
1776
JOHN DOW / DEW
here 17.09.1789 - 1794
-
FRANCIS WOODS
Age 55 in 1841
(Died Q4 1871 - age 90 ?)
1836 - 1841
JOSEPH GREEN
(Died Q2 1872 - age 71 ?)
1845 - 1846
HENRY WOODS
Died Q3 1852 - age 41
1851 - 1852
EMMA WOODS
(Age 38 in 1851)
1854
WILLIAM BROUGHTON
(Age 54 in 1871 and working as a labourer.)
1856 - 1869
SAMUEL JACKSON
(Age 44 in 1881 - Agricultural labourer)
1871 to 1880
NORTH FLEGG
& carpenter
Died Q2 1905 - age 74)
13.11.1880
ALBERT ERNEST TURNER
21.10.1907
ARTHUR JOHN BROWN
18.10.1909
CHARLES BARNABAS THURTLE
26.06.1911
THOMAS MACE SYMONDS
13.12.1915
RICHARD CHARLES SNELLING
20.11.1916
WILLIAM HAGON
29.09.1922
JOHN BECKETT
24.10.1924
FREDERICK THOMAS TYLER
Died March 1940 - age 54
21.10.1927
CECILIA ANNE TYLER
(Died December 1943 - age 51)
08.03.1940
ALFRED ELLIS
28.06.1940
ERNEST FREDERICK LUNN
(Brewery rep.)
06.06.1958
Note : Kelly gives two entries in 1858
1. William Broughton
2. Mrs Mary Woods
(only William Broughton given in 1856 & 1861)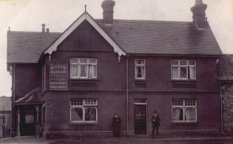 March 1913
Mr Thurtle and Mr Watson Moy outside the recently built house. (c1900)
Original White Horse was a small cottage with ground floor rooms either side of a central entrance porch. A single dormer window in what must have been a very cramped upper floor between the roof trusses.
Referenced in 1805 case of smuggling
Appears on Bryant's 1826 map.
22 1/8 barrels of beer sold in year prior to closure.
Licence of the CROWN & ANCHOR, Weybourne is noted (c1898) in the registers as ``Surrendered by S&P at time of removal of licence. WHITE HORSE, Edgefield '' .
This possibly relates to the upgrading of the WHITE HORSE to a full licence, but entries for this house appear to show a full licence from at least 1878?