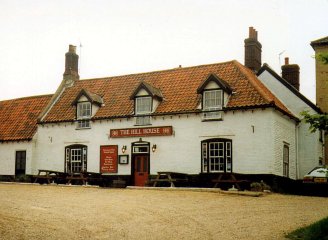 May 1997
Dates back to 15/16thC.
June 1802 - William Wiseman informed the Public that he had made a very great addition to the Inn for the reception of Ladies and Gentlemen. Ready Furnished Rooms were prepared for the Season and a choice stock of Old Wine, Spirituous Liquors, &c, had been laid in.
Mr. Goodrum announced 29th May 1813 that he had taken the house and fitted it up in a genteel manner for the accommodation of gentlemen and families, during the Bathing Season.
Advertised 6th March 1815 To Let from Lady Day (25th March).
The entire Furniture of eight sitting-rooms and Parlours, ten bed-rooms, Bar and Kitchen of the hotel, offered for sale by auction Tuesday 6th December 1842
Lot No. 10 in sale of estate of Mr W. Colk 28th June 1853.
Including a capital Bowling Green.
(Valued at £700, but Miss Ann Forster of North Walsham held an interest of £520 in the property.)
Although Mr. Francis Le Neve is given as licensee in 1856, Mrs. S. Le Neve thanked the Nobility and Gentry, 14th April 1855, for their support of her late husband, and advised that she intended to carry on the business.
Said to have been a favourite haunt of Arthur Conan Doyle and that he wrote parts of THE DANCING MEN while sitting in an upstairs window.

A signal box was built behind the premises as part of the planned, but never completed, expansion of the Great Eastern Railway. Today used for Bed & Breakfast accommodation.