Licensees :
-
?
1755
JOHN DOVE
1761
HENRY TINGEY
here 08 & 10.1777
JOHN BAKER
1789 - 1794
-
THOMAS HURST
& excise office
1830 -1831
MARY ANN HURST
1836
SUSAN HURST
Age 33
1841
THOMAS HAWKINS
age 37 in 1851
farming 50 acres
by 1845 - 1851
Mrs SARAH HAWKINS
age 43 in 1854
1854 - 1869
THOMAS THOMPSON HURST
(also as Hirst)
1875 - 1890
GEORGE HUMBERSTONE
1892 - 1909
WILLIAM PRUDEN
26.04.1909
JOSEPH KING
10.01.1921
ABE HUBBARD
19.07.1926
LOUIS PLUMER TURNER
06.01.1930
ROBERT ARNOLD BIDWELL
06.10.1947
MAURICE OWEN
1953
W GOOCH
1958
EDWARD McGILL
1967
PATRICK DORAN
1973
PATRICIA & LESLEY BANHAM
1980's
-
GRAHAM TIDMAS (Bluey)
(b. 26.12.1942 - d. 17.03.2018)
1992
-
CLOSED by 2015 - March 2018
COLIN JAKINS
04.2018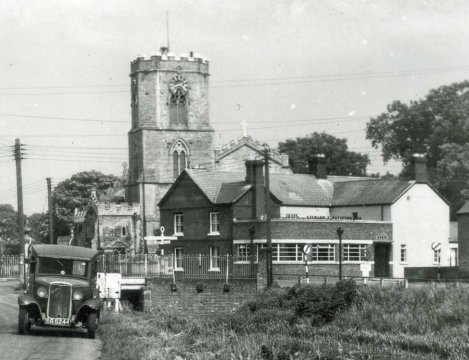 c1955

From Monday 30th June 1755, a Show of Horses and Cattle would be held annually on the Feast of St. Peter and Paul, the 29th, unless it should happen on a Sunday, and then it would be held on a Monday, as it did in 1755.
An Ordinary would be provided at the Five Bells.

On Tuesday, 10th March 1761, the Peal of Six Bells, lately cast, hung and completed by Joseph Mallows, Bell-Founder of East Dereham, was opened. The Tenor, of about 15 cwt, being tuned to F sharp. The Peal being well hung so any Company could ring them with great pleasure. John Dove of the Five Bells would provide to all Gentlemen, Ringers and others, a Dinner, where they would meet with a hearty Welcome.


An auction was held here 24th September 1777.

Some time before October 1794 a woman, calling herself a "doctress", called at the Inn and offered the Ostler some medicine to cure his ague. Within hours the patient was dead. Following an inquest, the woman was apprehended and committed to gaol.

The ROSE & CROWN was offered for sale by auction here, 29th May 1811.

Freehold for Sale by Auction Thursday 6th March 1845, with Brew-house, Stables, Gig House, Outbuildings, Orchard and Garden.
Possession from 6th April 1845.
Thomas Hawkins, tenant, to show the premises.

Commercial Hotel and Posting House.
As at Church Street 1851

Became the NORFOLK PUNCH HEALTH INN in 1980's

Back to the FIVE BELLS in 1992

Closed November 2014.
Re-opened Easter 2018 (by April 1st)

Proposal to convert into a 20 person Holiday Let opposed October 2021.