Licensees :
EDWARD REYNOLDS
1844 - 1846
JAMES W PORTER
1847 - 1850
THOMAS BROWN
age 52
1851
FREDERICK PHILLIPS
(Said to have introduced the first music-hall or variety acts to the city of Norwich - He apparently gave his first performance at the Adelphi, a theatre attached to the TUNS at Thorpe)
1854 - 1855
GEORGE FIGG
hotel keeper
October 1855 - 1866
FREDERICK EDWARD WHITE
by 1867
ALFRED NORTON
15.10.1868
Accused 04.10.1872 of being open out of hours.
WILLIAM NORGATE
06.03.1873
Convicted 12.04.1878 of allowing consumption out of hours.
Fine 10/- plus £1/3/6d costs.
ALFRED NORGATE
13.05.1879
(Thomas King - Manager)
(1875 - 1890)
(Johnson Hemmell - Manager)
(1892 - 1896)
(George Jackson - Manager)
(1900)
(Mrs M A Seppings - Manageress)
(1904)
WILLIAM HENRY BAYFIELD
24.07.1906
(Arthur Turner - Manager)
(1908 - 1916)
ALFRED JOHN PATEN
06.10.1925
Convicted 17.11.1925 of selling out of hours.
Fine £1or 13 days detention.
Destroyed by enemy action 1942
HENRY St. JOHN BRADING PATEN
13.06.1950
FRANK EDWARD ROSSER
20.11.1951
to at least 1967
.
-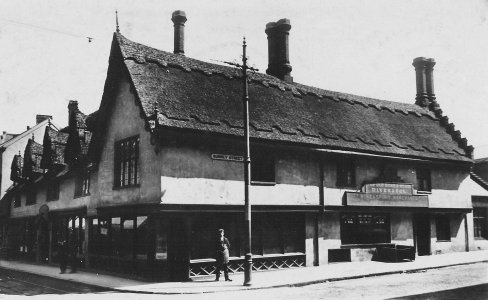 c1920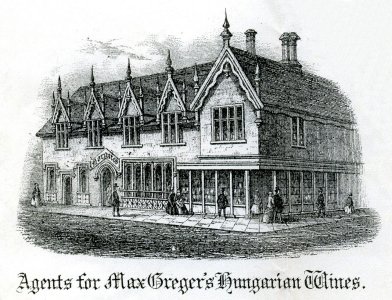 1877 billhead - apparently showing a tiled roof.
Stood on the corner of Surrey Street and St. Stephens Street.

The GREYHOUND to 1843.

Offered to let, along with the GRAPES, St Giles, May 1843 as the BOARS HEAD, late GREYHOUND.
(A boars head appears in the Norgate family arms).

Edward Reynolds, late of Saxlingham Mills, announced 30th March 1844 that he had taken the BOAR'S HEAD INN, Chop House and Livery Stables, formerly the GREYHOUND.

James Porter announced 10th April 1847 that he had taken the BOAR'S HEAD and sought a Good housemaid, who understood Waiting at Table.

Thomas Brown, late of Wroxham, informed the Public 5th April 1851 that he had taken the Inn. (Possibly from as early as January 1851)

James Porter informed the public, 26th April 1851 that in leaving the BOARS HEAD he had taken the BOWLING GREEN HOTEL, a 3 minute walk from the Eastern Union Railway Station.

Advertised June 1853 To Be Let at a very Moderate Rent.

In September 1854 a music hall, known as Shades, to cater for 200 people, was started here under the management of Mr Fred Phillips.
In the same month a meeting of victuallers was held here
to discuss a bill before Parliament to regulate the sale of alcohol on Sundays.
The Norwich Licensed Victuallers Association was then formed with Mr Phillips as president.

Offered to Let by Norgate & Co, May 1853 and again June 1853 - To a suitable Tenant, with sufficient capital, at a very modest rent.

On 23rd September 1854 it was advertised that the New Wine Shades was a splendid success and crowds were unable to obtain admission in spite of the ability to accommodate 300 persons.
A Chop, Bread, Potatoes and Ale were served for the price of 11d.
An Imperial Quart of Port or Sherry being 5/-, a pint 2/6d, a half pint 1/3d and an Imperial Gill 7½ d.

20th October 1855 - George Figg advised his numerous Friends that his Removal from the Cricketers Arms to this establishment, allowed him to offer the accommodation they had so long required of him. He advertised new-built Stables and Elegant Carriages for hire.


At the Annual Licensing sessions 30th August 1861 Messrs. J & W Norgate applied for a transfer from their house in St. Stephen's to the house JUST ERECTED at the corner of St Stephen's and Surrey street.


In August 1864 Norgate & Son were offering kilderkins of Norwich brewed India Pale Ale and Norwich Strong Ale at 25 shillings a kilderkin. (approx. 2d a pint). The equivalent brews by Bass's Burton were 30 shillings.
They were also agents for Coombe & Delafield and Co's London Stout, Extra and Double Stout at prices respectively of 24/6d, 31/6d and 35/- per kilderkin.

Offered To Let June and July 1866 with Possession from Michaelmas 1866.
Apply Mr. George Figg on the premises.

In 1890 Johnson Hemnell is given at the
BOARS HEAD STORES,
5 St. Stephens Street.

Alfred Norgate applied, on Monday 24th August 1891, for a music and singing licence. It was opposed due to the fact that Mr. Norgate did not live on the premises. It was heard that he personally supervised the business carried on by his manager, who was not paid a salary, but received a certain percentage of the profits of the business. Licence granted.
A 15th C thatched building seriously damaged by enemy action 27/29.04.1942. The ancient building was later demolished rather than be restored. Rebuilding was further back from the original site which conveniently allowed the road to be widened. (A proposal which had been made in the 1930's but the historic building presented a problem).
Although easily repairable the ancient hall behind, with its vaulted brickwork cellars,
was also lost.

New house reopened 11.12.1952 according to Licence Register, but a further entry gives the date as 10.12.1953, (the earlier date perhaps being when licence transferred to the building under construction ?).

The Mutton Chop Banjo Band were a popular attraction on a Saturday night in the 1970's