Licensees :
WILLIAM SYDNOR
by 1651
HENRY SYDNOR
(from tokens of that date)
1659 - 1667
SAMUEL BARTLETT
1743
ISRAEL LONG
Ownership passed on to his sisters Susan & Sarah
died 1759
ROBERT WATERS
1783
JOHN DIGBY
1791 - 1793
ROBERT ENGLISH
1805 - 1811
EDWARD WURR
(Died Thursday 23rd March 1843 - aged 72 - after a short but severe affliction.)
1822 - 1830
JAMES SPANTON
(August 1827 - Married Sarah English, daughter of Robert English)
Went to Aylsham BLACK BOYS
1833 - 1843
Originally a private dwelling.
(Home of the Mayor in 1450's)
~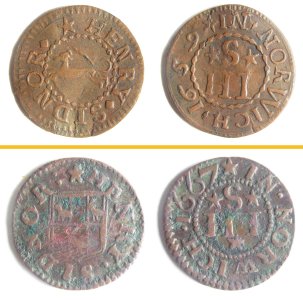 Greyhound tokens of 1659 and 1667
~
9 April 1743
The GREYHOUND INN in St Stephens, Norwich, being an ancient and well accustomed house is now fitted up in a commodious way and is now entered upon by SAMUEL BARTLETT, Clockmaker, for the Reception of Gentlemen, where there will be a glass of neat wines, BURTONS fine Ale and exceeding good stable room for horses.
N.B. The Doctor gives Attendance there on Saturday as usual.
~

One of 40 houses named as being engaged for the Reception of Freeholders for Sir John Woodhouse and Sir Edward Astley's Friends on the Day of Election, Wednesday 14th April 1784.

~

Mr. R. English announced Saturday 26th October 1805 that he had taken the Inn. Late servant to the Reverend R. C. Long of Dunstan, he hoped, by unwearied attention, to merit the favours of his Friends and the Public.

~
According to the Bury and Norwich Post of 1st August 1827 :-
Married: Yesterday se'nnight Mr. James Spanton, proprietor of the The Times London coach, to Sarah, daughter of Mr.English; of the Greyhound Inn, St. Stephen's.
Mr. Wurr is given at the Greyhound in directories 1822 and 1830, so was Mr. English was still living on the premises?

~

Mr. Spanton is mentioned in 1831 with the news printed in the Norfolk Chronicle of 21st May 1831 :-

To be sold by auction by J. Culley, on Thursday, 16th May 1831. At the Greyhound Inn, St. Stephen's, Norwich, Precisely at six o'clock in the afternoon. Lot 1- A double range of brick and tiled Stables, capable of holding 16 horses with Hay-loft and two corn chambers, covered Leanto, and enclosed Yard, with soft Water Pipe. This Lot is Freehold, and situate in Westlegate street, All Saints, Norwich, and in the occupation of Mr. James Spanton, the Proprietor. To any Coach Proprietor this Property, from its short distance to the Market-place, is very desirable, or it might at a trifling expense be converted into several Tenements. – Land-tax, 10s per annum.

He is confirmed at the Greyhound when it was announced on 29th June 1833 :-
The health of the Mayor having been proposed by Lord Stormont…Nothing could have been better conducted than the two dinners were throughout, at which no less a number than 1677 persons were hospitably entertained. Much credit is due to Mr.Spanton (of the Greyhound) for the management he displayed; the meats set on the table were of the best quality, well cooked; and the porter of sound generous quality.

~
Recorded as the
GREYHOUND
by early 1600's to 1843.
Purchased by Richard Norgate in 1840 for £3,200
Renamed the
BOARS HEAD
by May 1843.
Offered to let May 1843 as the
BOARS HEAD
, late
GREYHOUND
.
Relocated to new premises 1861.