Licensees :
PETER ADAM
worsted weaver
1760 - 1763
.
JOHN NEVELL
1810
WILLIAM ARMES
age 68 in 1851
& cordwainer
& licensed horse slaughterer 1842
& marine store dealer 1856
1822 - 1856
Mrs SARAH ARMES
(still listed 1879)
1859 - 1865
Landlord cautioned Tuesday 29th August 1865 for having house open at unlawful hours for the sale of beer.
JOSEPH HUNN
by 1867
CHARLES LAVATER CAWKWELL TAIT
23.01.1883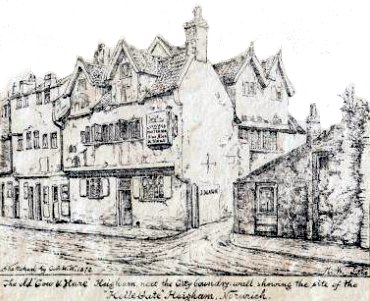 1872 illustration - thanks to Mr Phillip Armes

Also listed as the
BROWN COW & HARE
.
The sign is reputed to be based on the belief that a Witch could transform into a hare and `suck cows dry'.

On the night of Friday 27th December 1850, between the hours of six and twelve o'clock, the bed-room of Mr. Armes was entered by thieves who stole two watches and seven sovereigns.

House purchased by the Eastern Midland Railway Company in 1882 and soon demolished. To be replaced by the RAILWAY STORES.