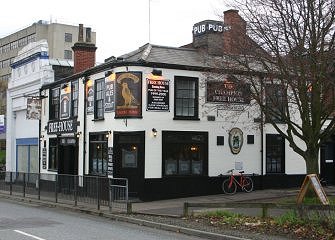 November 2004
Named after bare knuckle boxer Daniel Mendosa who visited Norwich in 1790.
Part of Lot 7 in the sale of Most Desirable Brewing and Malting Establishment, Tavern and Spirit Vaults, Baking Office and Building Land offered for Sale by Auction Friday 28th June 1844 at the Direction of the Proprietor, Mr. Thomas Massey.
Lots 1 to 5 were pieces of Freehold Land near St. Stephen's Gates.
Lot 6 was the Baking Office fronting the road from St. Stephen's Gates to St. Giles Gates.
Lot 7 was a Dwelling House adjoining Lot 6 and the Brewery. At the entrance to St. Stephen's Square was the Spirit Shop and Tavern, comprising besides the corner Shop, a Porter-room, Kitchen, Cellar, several Bed-rooms, Wash-house, Yard and Privy. To the rear a recently erected Malting Office with 30 coomb steep.
The Liquor Shop in occupation of Mr. Garwood, the Malting Office by Mr. Clarke and the remainder of the Proprietor.
Lot 8 was land adjoining Lot 5 with a Blacksmith's Shop and other Erections.
Given as the
CHAMPION STORES
in 1890.
Advertised as the `nearest Lacons House to the Bus Station' 1966.