Licensees :
ROBERT BUTCHER - first licence
12.04.1887
WILLIAM CHETTLEBURGH
26.05.1887
EDWIN ISAAC GIBSON
15.07.1913
ARTHUR MARTINS
22.06.1920
SELINA MARTINS
25.07.1933
HENRY ALBERT PAVELEY
10.03.1936
FREDERICK MAXWELL HOLROYD
13.03.1951
HERBERT WILLIAM HOLLAND
02.01.1962
IAN EVANS
1978
-
DEREK BAKER
1986
MICHAEL BATCH &
ANREA GODFREY
1986 - 1987
MURRAY WICKS
1987 - 1988
-
CHRISTINE RUNACRES
manager
1994
EDWARD HAZEL & VAL WICKS
1995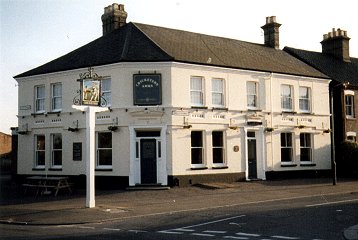 1987
Provisional licence granted 1886 for a new house to be erected on a new road between Hall Road and City Road, Lakenham.
Order declared final 29.03.1887.
Licenses of the HALF MOON, Southgate and the DOLPHIN, St. Mary given up.
Closed May 1996 and offered for sale - a Freehold at £70,000.

Became a Funeral Parlour.