COOPERS
in 1878
The
BANK PLAIN RESTAURANT
by 1894 (At 5 Bank Plain)
BANK PLAIN STORES
from 1905 (In adjoining building in Queen Street)
Given as the
BANK PLAIN HOTEL
in 1908 and 1912.
Licensee from 1904 to 1937 was George Gundry White
and the house became (unofficially) known as
GUNDRY WHITES
by 1920.
Taken over by W. Purdy Ltd in 1961 and the inside completely remodeled.
Featured a new restaurant, the Gundry Grill, Wine Cellar Bar, Capri Bar for the ladies and the Norfolk Bar for the gentlemen.
Egon Ronay Guide 1965 - Varied plain cooking - Grilled river trout, excellent - kidney omelette at 2s 9d, satisfactory.
The only Norwich house (out of 18 Norfolk public houses) recommended by the Egon Ronay pub guide of 1969.
`Trendy and reasonably priced '.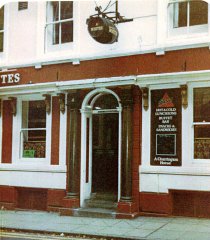 GUNDRY WHITES
to 1986.
DRUMMONDS

Briefly back to
GUNDRY WHITES
.
Some excellent music was played here in the 1970's.