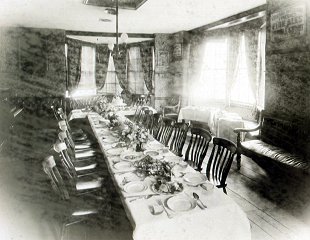 One of the rooms set out for a meal,
at some time during the time of J. R. Booty. (1892 - 1911)
Advertised to Let, with Immediate Possession, 1st October 1831. Described as a Capital, Newly-erected Inn, with commodious Stables and Outbuildings and particularly well calculated from its situation to command an extensive Market Trade. - Apply to Messrs. steward, Patteson, and Co. Pockthorpe, Norwich.
On Monday 21st March 1842, John Jary, publican of St. Giles, was detained on the suit of Messrs. Youngs and Burt.
Also found as the
THREE TUNS
Address as St. Giles Gate in 1845.
At Chapel Field Road 1851

A newspaper report of 26th June 1869 records Edward W. Nursey as licensee. He was summoned for assault on Frances Langton, wife of the city librarian. Supported by witness statement that he had not used foul language or assaulted the complainant, but only took hold of her arm to put her out of the house, the case was dismissed.
The licence registers and trade directories only ever record Henry Nursey.
One of the upstairs rooms was the scene of Martin Stally committing suicide by hanging. His ghost is said to haunt the house.
Damaged by enemy action 27/29.04.1942
Renamed the TEMPLE BAR November 1999





House No. 500 on 1845 Magistrates list.