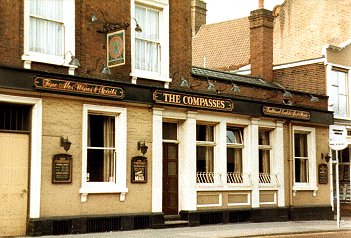 1983
Advertised in the Norfolk Chronicle of 21st September 1776 to let, for entry from the 29th of September.....` Enquire at Mr. Jacksons Brewing Office at Conisford.'
Said to have been known as the
GOAT & COMPASSES
pre 1800.
Given as the
THREE COMPASSES
in 1802, 1840, 1858, 1865 & 1869.
Landlord Philip Pearce was fined 1s and costs on Thursday 7th July 1859.
Inspector Clarke had noticed, on the previous Saturday, that the number on the defendants fly was hardly noticeable. This was in breach of the bye-laws for hackney carriages. On the Tuesday he again saw the fly, but no number was visible at all. Upon asking the driver of the where-abouts, he was told that it was under the seat.
An application was made Thursday 21st August 1884 for provisional removal of licence to new premises about to be constructed on adjoining site. The cost of building was said to be £800.
Mr. Cooper objected to the design since he claimed the light to his warehouse behind would be affected. Magistrate Mr. Browne claimed the single/double storey design of the building would spoil the look of the street entirely.
The Bench granted the application.
Order declared final 16.06.1885.
``Even after 1945 had a sand covered floor and S&P beers served straight from the barrel. The bar offered rails for both hands and feet.''

House closed 10.11.1984 and converted into an estate agents office.